On June 3 of this year, Josai International University awarded an honorary doctorate to Liu Jinan, Honorary President of the Communications University of China (Beijing).
Liu Jinan is known as an educator who has made a major contribution to the development of China's media industry by cultivating outstanding human resources. In 1993, she became president of the Beijing Broadcasting Institute, which is the forerunner of the Communications University of China. In 2004, after the name of the school was changed to Communications University of China, she acted as president and then as honorary president, remaining active in the world of education.
Since its founding in 1954, the Communications University of China has been educating outstanding talent to support China Central Television, the Chinese national broadcasting company. Acting as a comprehensive university in such media fields as television, newspapers, magazines, advertising and the Internet, it now boasts a total enrollment of about 14,000 students.
The Communications University of China has received enthusiastic praise internationally for such programs as the UNESCO lecture series on Media and Women.
In May 2007, it concluded an academic exchange agreement with Josai University to promote mutual exchange among our students and a special program in connection with this year's Beijing Olympics, in which students of Josai University will receive training on newsgathering at the Olympics.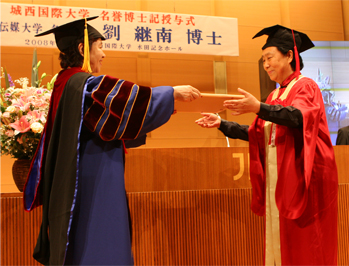 Liu Jinan, Honorary President of Communication University of China (right) is awarded an Honorary Doctorate by Chancellor Noriko Mizuta
Honorary President Liu Jinan Delivers an Address at the Mizuta Memorial Hall