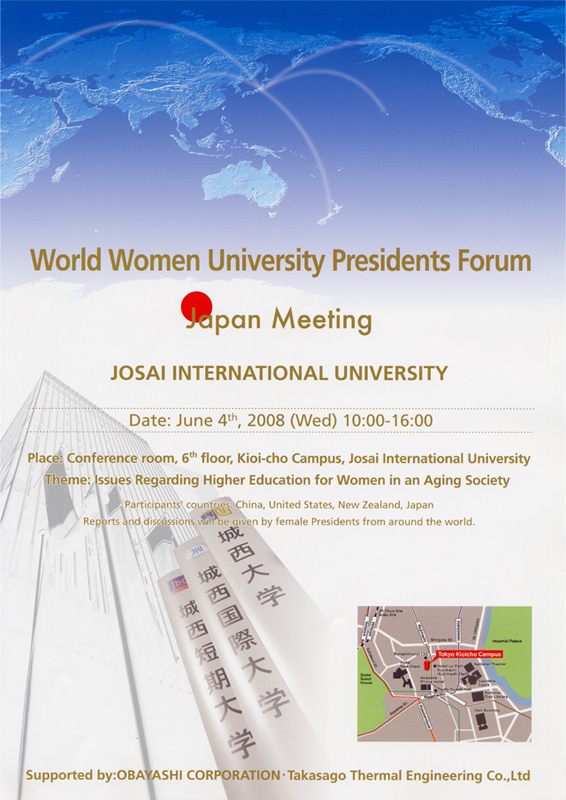 June 4 of this year saw the World Women University Presidents Forum-Japan Meeting at the Tokyo Kioi-cho Campus of Josai University Educational Corporation.
The World Women University Presidents Forum is a global forum of women university presidents that had its start in 2001 on the urging of President (currently honorary president) Liu Jinan of the Communication University of China and has been held in China since then.
The forum has witnessed a steady increase in attendance since its inception, each time featuring a special theme:
1st forum (2001): Development Strategies for Higher Education
2nd forum (2004): Development and Cooperation in Communication
3rd forum (2006): Harmonization of the World and Cultural Diversity - The Role of Universities and the Media
The 3rd forum welcomed about 200 women who served as university presidents and vice-presidents in universities in 34 nations. (69 were from outside China).
Sub-forums are held in different regions of the world in preparation for these main forums. In preparation for the 4th World Women University Presidents Forum planned for October 2009, a sub-forum (Japan Meeting) was held this time at Josai International University.
At the start of the Japan Meeting, Chancellor Noriko Mizuta of Josai International University delivered a speech on the goals and significance of the meeting and the reasons for choosing the main theme: "Issues of Women's Higher Education in an Aging Society." This was followed by reading of a personal message from Mrs. Akiko Domoto, the Governor of Chiba Prefecture. Following this, nine woman university presidents and university representatives participating from five nations (including the United States, New Zealand, China and India) delivered reports. These reports confirmed that the existence of gender discrimination in our aging societies leads to a major loss of societal resources. A lively discussion ensued about models for reeducation and lifetime education at universities. The fruits of this meeting will enjoyed at the 4th World Women University Presidents Forum to be held next year.
There are now plans to include details of reports delivered at this meeting in the research publication RIM (No. 26, with publication planned for this autumn), This publication is issued by the Josai International University Institute for Gender and Women's Studies. The meeting proceedings were covered in newspapers and on television (including the June 5th editions of the Mainichi Daily News and Tokyo Web).