As part of a series of academic and cultural exchanges between Japan and Hungary, Josai University and Josai International University will host an exhibition showcasing the works of two artists currently working in Hungary and Europe. The exhibition is to be held under the auspices of the Embassy of Hungary in Tokyo and will be co-sponsored by the Hungarian Cultural Center.
The exhibition will feature a total thirty works by Katona Szabó Erzsébet, a member of the group of artists "Modern Etnika" whose distinctive leather collages have attracted widespread attention, and Csille Marti, who takes her inspiration from the earth, water and wood, to bring forth organic shapes from felt. We invite you to take this opportunity to experience the imaginative cultural arts of present-day Hungary.
Josai University Educational Corporation and the Budapest Business School have signed an agreement on academic exchanges and are promoting exchange visits between students of both institutions. Moreover, the Hungarian Cultural Center, which was established with the cooperation of the Japan-Hungary Friendship Association, Hokkaido University, the Embassy of Hungary in Tokyo and Sumitomo Chemical Co., is helping to promote mutual understanding, exchanges and development in the fields of research and culture in both Japan and Hungary.

Organized by Josai University & Josai International University
Sponsored by the Embassy of Hungary in Tokyo with the support of the Hungarian Cultural Center
Josai University:
Exhibition dates
September 25-27, 2007 (Tuesday – Thursday)
Hours of opening: 10 a.m. – 4 p.m.
Admission free (no application necessary)
Location
Josai University Sakado Campus, 2F gallery, Seiko Kaikan
1-1 Keyakidai, Sakado, Saitama
http://www.josai.jp/en/access/
Inquiries to
049-271-7722
Josai International University
Exhibition dates
October 4-5, 2007 (Thursday – Friday)
Hours of opening: 10 a.m. – 4 p.m.
Admission free (no application necessary)
Location
Josai International University Togane Campus, 3F gallery, Administration Building
1 Gumyo, Togane, Chiba
http://www.jiu.ac.jp/englishsite/aboutjiu/access.html
Inquiries to
0475-53-2562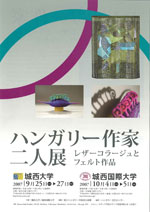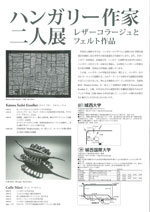 pamphlet
(designed by student, Akiko Kamimura, from the Faculty of Media Studies, Josai International University)
▲Click image for details
[Artist profiles]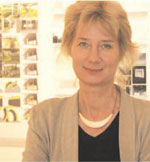 Katona Szabó Erzsébet

1952&nbsp&nbsp&nbsp Born in Transylvania, Romania
1975&nbsp&nbsp&nbsp Becomes a tapestry designer upon graduating from the Faculty of
&nbsp&nbsp&nbsp&nbsp&nbsp&nbsp&nbsp&nbsp&nbsp&nbsp&nbsp Applied Arts and Design, University of Arts, Cluj-Napoca
1983&nbsp&nbsp&nbsp Relocates to Hungary where she works for short periods as a fashion designer,
&nbsp&nbsp&nbsp&nbsp&nbsp&nbsp&nbsp&nbsp&nbsp&nbsp&nbsp puppet artist and stage designer
&nbsp&nbsp&nbsp&nbsp&nbsp&nbsp&nbsp&nbsp&nbsp&nbsp&nbsp Besides tapestry design, the artist creates innovative wall carpets and has made a name
&nbsp&nbsp&nbsp&nbsp&nbsp&nbsp&nbsp&nbsp&nbsp&nbsp&nbsp for herself in the world of apparel design
&nbsp&nbsp&nbsp&nbsp&nbsp&nbsp&nbsp&nbsp&nbsp&nbsp&nbsp Besides tapestry design, the artist creates innovative wall carpets and has made a name
&nbsp&nbsp&nbsp&nbsp&nbsp&nbsp&nbsp&nbsp&nbsp&nbsp&nbsp for herself in the world of apparel design
1990s&nbsp&nbsp As a member of the "Modern Etnika" group of artists, stages exhibitions in Tokyo and throughout Europe


Csille Márti

1969&nbsp&nbsp&nbsp&nbsp&nbsp&nbsp&nbsp Born in Hungary
1985&nbsp&nbsp&nbsp&nbsp&nbsp&nbsp&nbsp Encounters felt and begins making creative works
1993&nbsp&nbsp&nbsp&nbsp&nbsp&nbsp&nbsp Becomes a member of an atelier for young artists
1996&nbsp&nbsp&nbsp&nbsp&nbsp&nbsp&nbsp Graduates from Janus Pannonius University
1999&nbsp&nbsp&nbsp&nbsp&nbsp&nbsp&nbsp Joins the National Association of Hungarian Artists
2002-03&nbsp Stages an exhibition with female artists ranging from the Alps to the Adriatic Sea