Josai International University expects the opening of Fossils Gallery in April at a new campus building in Hirakawa-cho, Tokyo. As a part of the museum network of the Josai University Educational Corporation "Oishi Fossils Gallery of the Mizuta Memorial Museum" will house over 300 specimens donated by Dr. Michio Oishi, a professor emeritus of Tokyo University. The new gallery also displays some important specimen rendered by the College of Paleontology, Shenyang Normal University of China which is one sister universities of JIU . The gallery will present the inaugural exhibition themed in the life and atmosphere on the earth one hundred million years ago followed by lectures and workshops for pupils, students and residents of the surrounding communities in the center of the metropolitan Tokyo.
  These specimens in the gallery are from the Mid-Cretaceous period which is about a hundred million years ago. Dr. Oishi's collection is consisted mainly on the rare specimen of aquatic organism such as fish from Brazil and Lebanon. Itasuchus composi , a kind of alligator in today's world, is a good example to characterize the galley because of the size and preserved condition of the piece as well as the fact that only few museums are displaying the specimen of this kind all over the world. Shenyang Normal University generously provided the academic replica of the precious specimen of Anchiornis and Microraptor. Anchiornis is regarded as the ancestor of bird and Microraptor is known as a four-winged fethered dinosaur. They are important specimens to investigate the evolution of dinosaur.
  A large scale skeleton of the carnivorous dinosaur Tyrannosaurid will be displayed at the entrance area of the building. The monument of the galley may attract the attention of visitors, especially young children. "Oishi Fossils Gallery of the Mizuta Memorial Museum" will be opened to the public. As well as symposia for the general audiences the specially designed scientific educational programs will be provided to elementary school pupils of the area.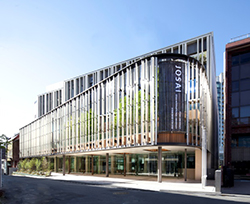 Josai University Educational Corporation
New Campus Building 3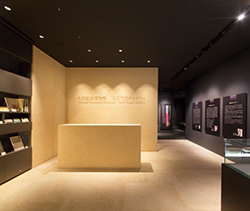 Entrance of Fossils Gallery