In an essay entitled, "The Joy of Ukiyo-e," collector Mikio Mizuta wrote that with ukiyo-e, a "fondness for history reveals itself" and experiencing a "love for the common folk" (by looking at ukiyoe), one becomes captivated entirely by images of people and genre scenes. Including nine Sharaku works, the Mizuta collection, which centers on actor portraits and beautiful women, comprises works that systematically follow the development of ukiyo-e, in paintings and prints, from Hishikawa Moronobu, extending to the Torii school, Katsukawa school, Utamaro, Hokusai, etc. down to the late Tokugawa (1603-1868) and Meiji (1868-1912) eras.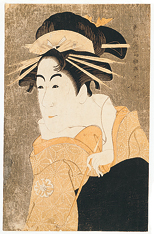 To-shu-sai Sharaku
"Matsumoto Yonesaburo- in the Role of Shinobu Disguised as Courtesan Kewaizaka no Shosho,"o-ban-size, nishiki-e.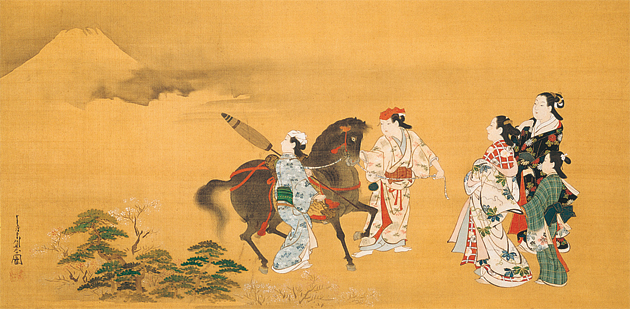 Miyagawa Choshun,
"Mitate of Ariwara no Narihira Going Down to the East,"colors on silk.


Katsukawa Shunsho-,
"Beautiful Woman with Cats and Dogs," colors on silk.


Kitagawa Utamaro,
"Fishing Under the Bridge,"
cho-o-ban-size, nishiki-e.

Mizuta Collection Exhibitions:

Spring (April - May), Autumn (November)

Theme Exhibitions:

Spring (May - July), Autumn (September - October)

Others:

Lectures and talks are offered during the run of the exhibitions.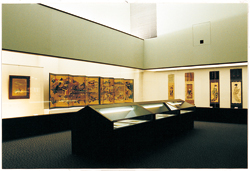 Mizuta Collection Exhibition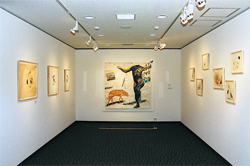 Yanagisawa Noriko Exhibition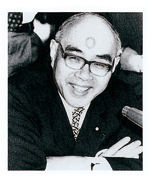 1905
April 13, Mikio Mizuta born in Chiba Prefecture, Awa Country, Soro Village.
1946
Runs for election in the 22nd House of Representatives as a member of the Liberal Democratic Party; his first election.
1960
1 st Ikeda Cabinet, becomes Minister of Finance; after this, for seven consecutive terms over a period of twelve years, serves as Minister of Finance.
1965
Founds Josai Unviersity, an incorporated educational institution (Saitama Prefecture, Sakado City); becomes the university's first chief director and chancellor.
1973
In China, holds a Katsushika Hokusai exhibition; visits China as the leading delegate in a Japan-China cultural exchange effort.
1976
December 22, untimely death due to illness at age 71.
Mizuta Collection donated to the incorporated educational institution, Josai University. Mizuta Museum of Art at Josai University opens.
1992
Josai International University (Chiba Prefecture, To-gane City) opens.
1998
Gallery established on the 3rd floor of the Central Building of Josai International University. Mizuta Collection special exhibitions begin.
2001
Tenth anniversary of the opening of Josai International University; Mizuta Museum of Art, Josai International University opens on the 1st floor of the Library Building.

Visitors can search the Mizuta Collection database under an artist name or title of the work, and also enjoy a slide show.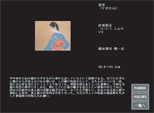 Screen explaining Ito Shinsui's
"Beauty Standing Before a Full-length Mirror"